Build it and the boats will come!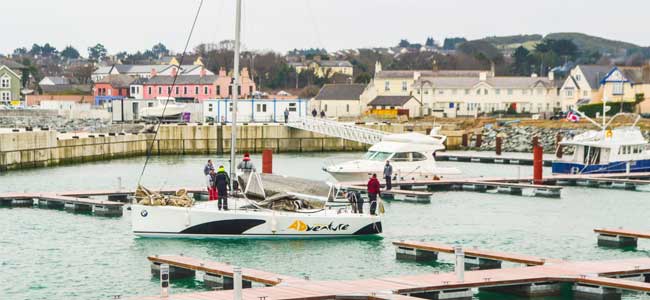 After an incredible month of highs and lows, we undoubtedly had our biggest high on Monday 1st April 2013. Our opening date had been set in stone and it was the one thing we were not willing to deviate from. Despite gales, snow and even the odd mechanical failure, at 9am on April 1st, Ireland's newest marina opened for business.
Rather fittingly after the weather during our build phase, it was windy and cold but thankfully dry. The sense of excitement was evident from early on as photographers gathered to see who or what would show up!
First in to the marina, delivering a customer's boat was Greystones Harbour Marina's Managing
Director Bernard Gallagher, closely followed by a Prestige 36 who's owner can see his boat from his house. Thereafter there were boats launched from the slip by the boat yard and boats arriving by sea, both sail and power.
Despite the swell outside the harbour, everyone was amazed at how calm the slipway and more importantly the marina basin were. A special mention at this point for Austin Whelan in Rattler who despite losing his engine off Bray Head, continued beating to Greystones and sailed on to the marina, great skills on a cold day.
There was champagne for new arrivals and there was great interest from boaters and non-boaters alike. As we get stuck in to the finishing touches, the marina basin which was totally empty 4 weeks ago, now has a stunning marina of which we are immensely proud.
A tired marina team had a stunning meal in Greystones that evening to mark what was a special day for all involved.
We have some great photos on our Greystones Harbour Marina Facebook page, go on and LIKE us and we will keep you posted on all our latest news.
As the boats continue to arrive, we do still have berths available so please get in touch if you need a berth. Also, if anyone has questions, just call us on 086 2718161.